HMV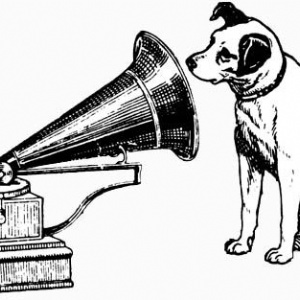 I believe Stoneygate mixes traditional and modern methods of teaching exceptionally well.
As part of the STEP programme, Year 10 pupils have been looking at the changing world of finance. It is pointless teaching pupils how to write a cheque; it is imperative they understand about internet fraud. Y10 students have also been looking at consumer choice…their chosen field: Chocolate digestives! Using numeracy skills, they soon realised that Aldi and Lidl digestives cost £0.14p/gram, compared with McVities at £0.42p/gram.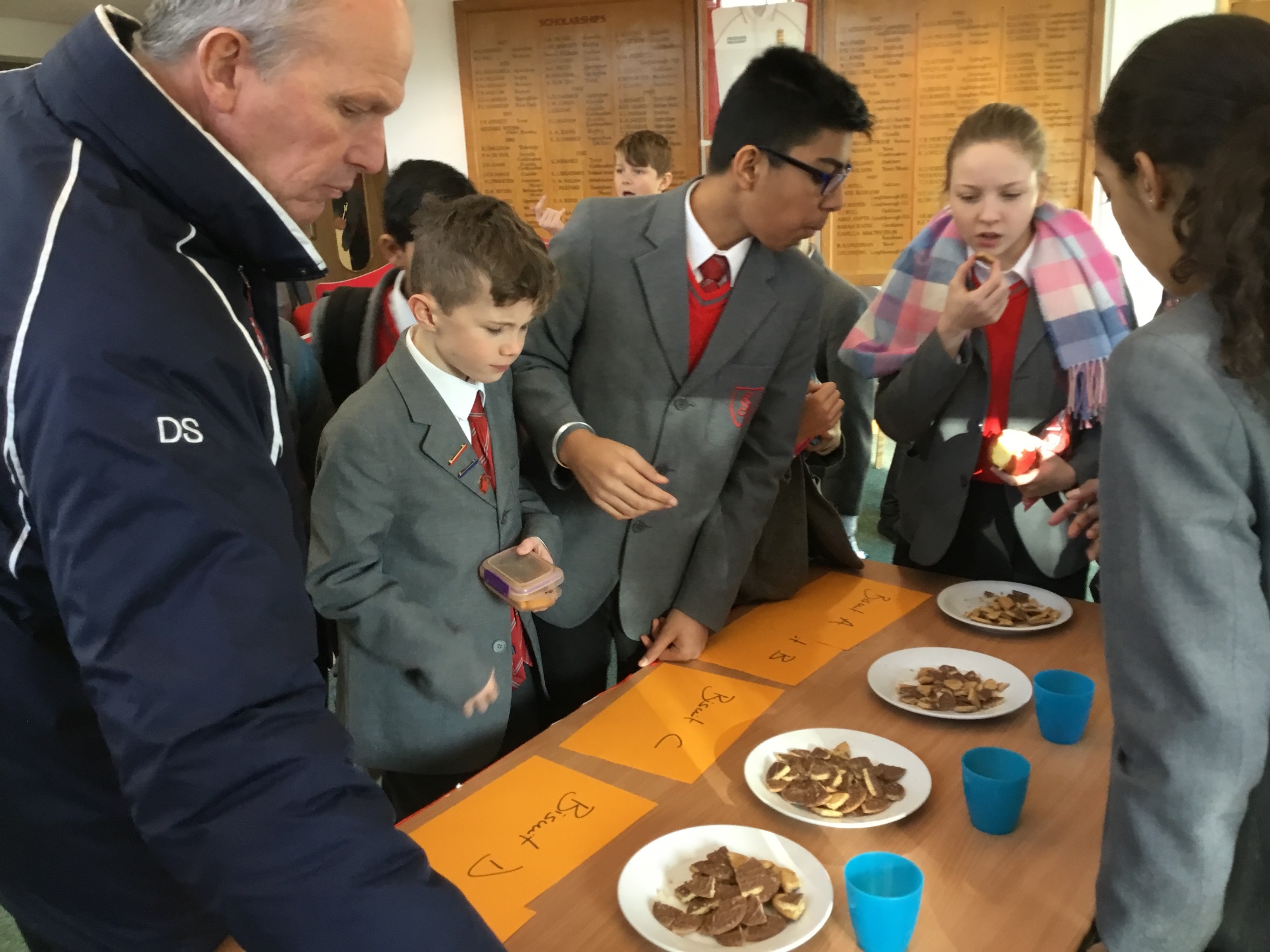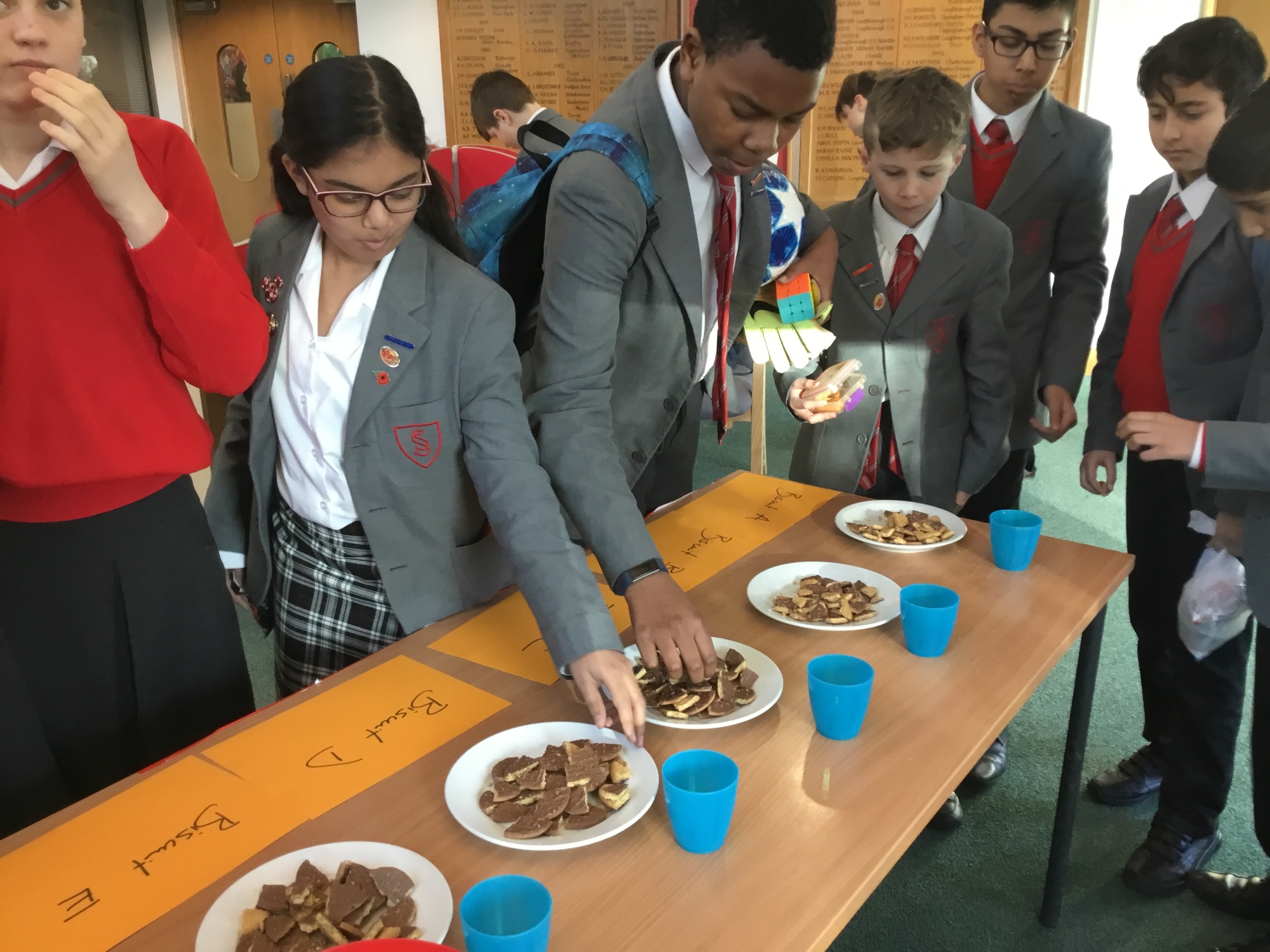 Senior pupils and Mr Stocks (deputy head and digestive aficionado) enjoying a "blind" taste test. (The Waitrose own brand beat all others with an impressive 39.5% vote)
Children should have opinions and at Stoneygate we encourage this through our lessons, through discussion and through debate. This is not a new teaching method and yet the ability to 'think on your feet' and make instant decisions are still seen as crucial characteristics in business. Recently, Madame Hosie and I met several pupils and discussed a whole range of topics from Brexit to 'How would you survive on a remote island?' Our pupils supplied imaginative, thought-provoking answers. Last week I experienced a new, online current affairs quiz with Year 7 pupils (thank you Mr Palmer for instigating this)- and again, I was delighted to see our pupils engaged and aware of what is happening in the world.
In an era when young, British children are often criticised for not being politically active, at Stoneygate we will encourage them to be so. I would encourage all pupils to look at the Newsround website. Last week there was an excellent article on politically active teenagers across Europe who are demanding climate change.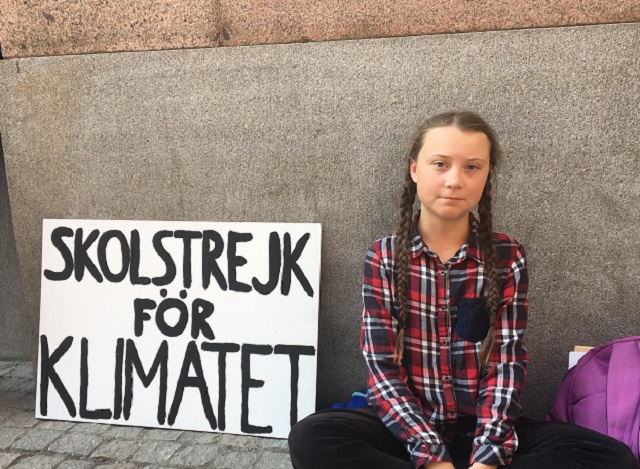 Greta protests outside the Swedish Parliament every Friday afternoon…
Inspired by the BBC programme 'Icons', pupils from Year 9 & 10 recently delivered an assembly describing who they thought were the most influential scientists. Their list included: Alexander Flemming, Marie Curie and Dimitri Mendeleev- the scientist behind the Periodic Law/Table.
Keeping with strong opinions, Year 6 SL delivered a thought-provoking and amusing assembly this week on 'gender equality'. Boys can be nurses and girls can be car mechanics. A philosophy we promote at school.
Boys can also do synchronised swimming…
https://www.youtube.com/watch?v=WkWNeTdnHPg
Well done to all pupils (& staff) who have endured arctic conditions this week and still refereed games and experienced 'Forest School'.
Stars of the Week:
Rec: Willow for organising an activity to include her friends and Kitty for always showing enthusiasm.
Year 1: Hebe for full marks in our Sun Quiz.
Looking forward to seeing you at the 'Family Games/Quiz' on Friday evening.
Mr J F Dobson