HMV
For over 160 years, Stoneygate School has produced 'well-rounded' pupils. This ethos is still very much alive in the 21st century. Academic rigour remains a key component, but we also value other, subtle means of teaching and learning.
Recently pupils from Reception to Year 3 have enjoyed the benefits of Forest School…exploration, discovery and the importance of shelter were the important themes this February.
Congratulations to our Reception pupils, who have not only learnt about the Chinese New Year in class, but also performed a dragon dance and delivered a wonderful assembly on this topic.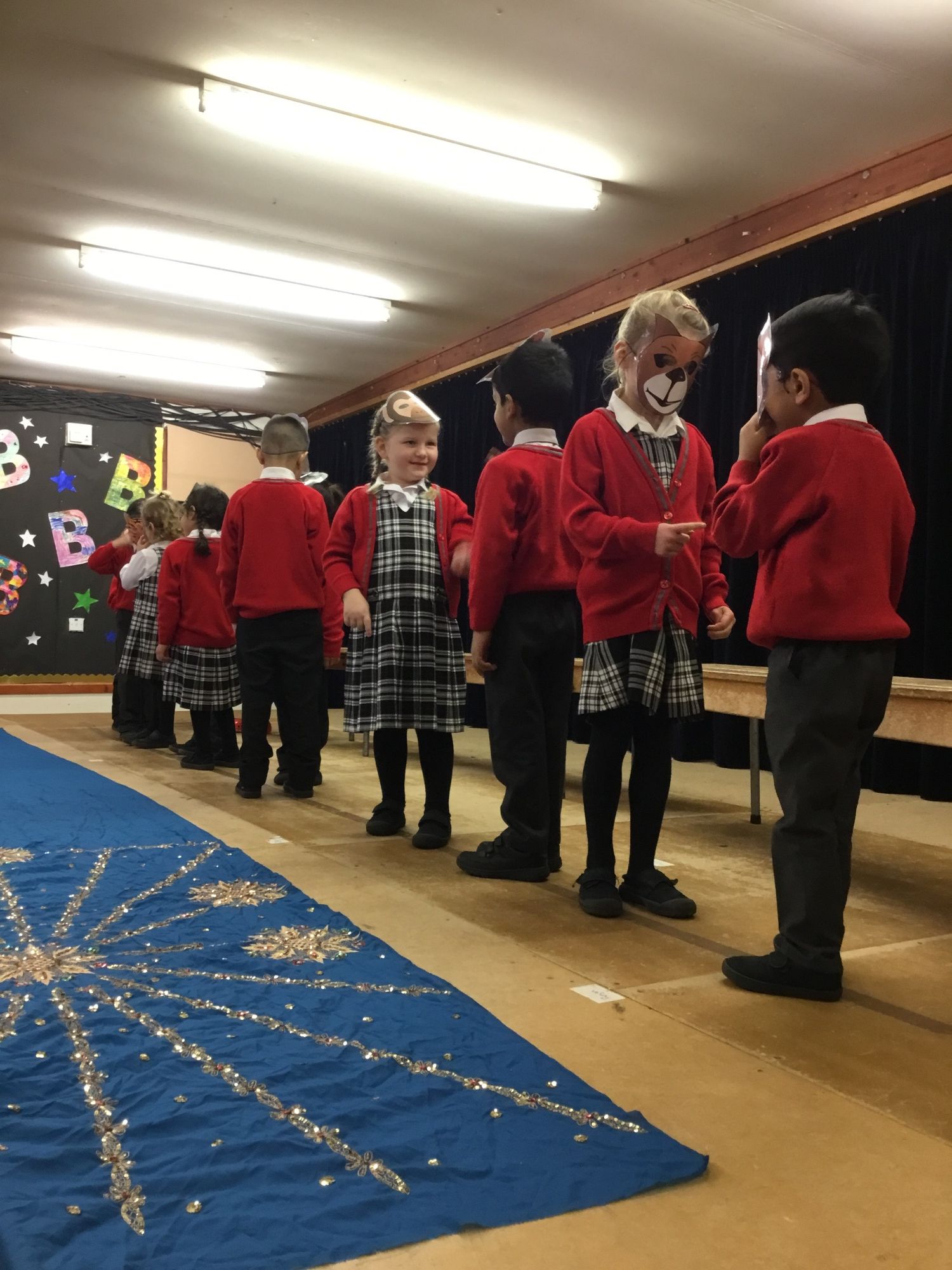 Reception pupils explaining the Chinese New Year.
Thank you to our Y10 students who created short films on 'The Future of Money'. In a thought-provoking assembly, they envisaged a futuristic Britain where cash no longer existed.
This week Year 2 welcomed Vanessa from Tickled Stink. Year 2 are currently looking at animal classification…what better way to study a topic than to actually see and hold exotic animals.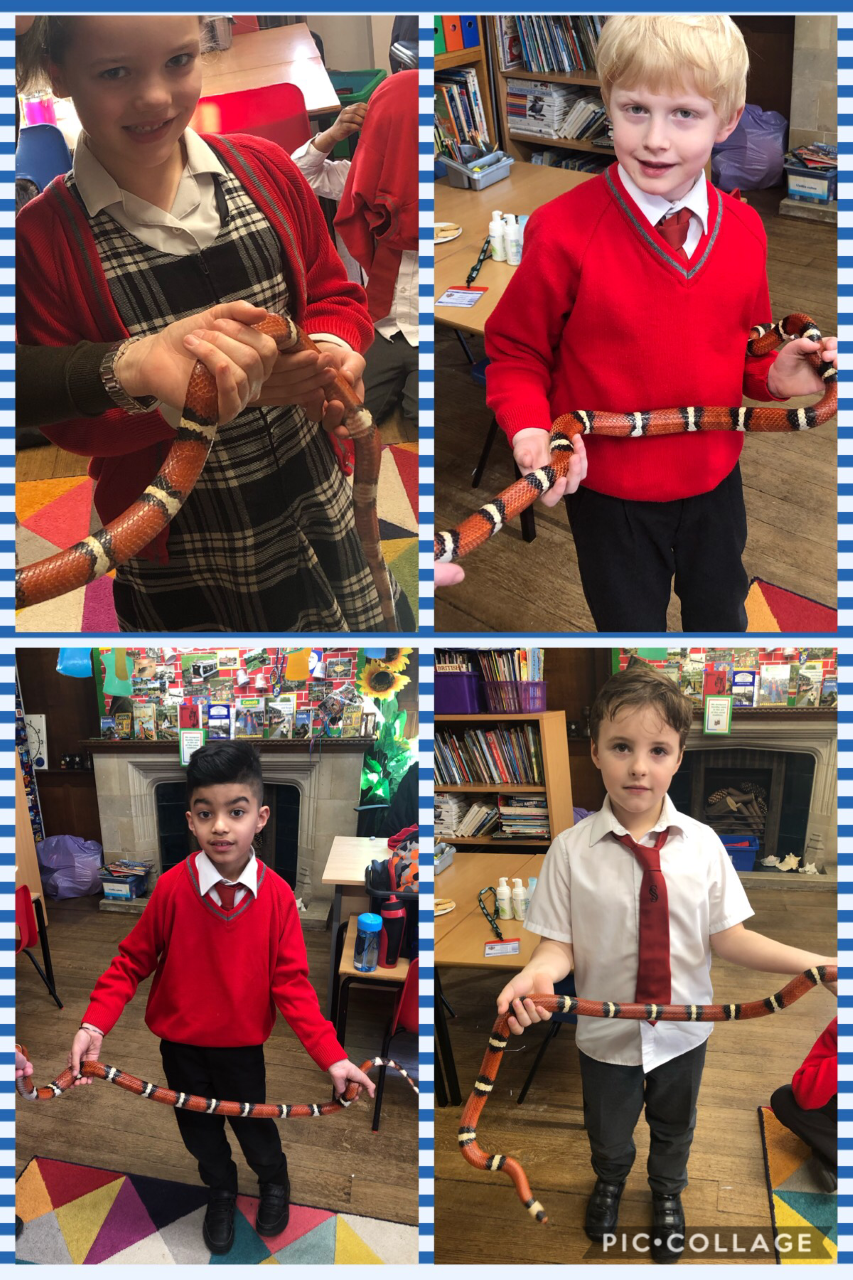 I popped into Year 2 and they gave me some excellent advice: if ever I were to go to Mexico, I need to look at the colour of the scales on the snakes… "red next to black, venom lack. Red next to yellow, venomous fellow!"
We ended this half term with our senior school debates: "Should Donald Trump build a wall?" and "Does Social Media cause more harm than good?" Both debates are current and the pupils were passionate in their participation.
67% of the vote (both pupils and staff) believed America should NOT build a wall.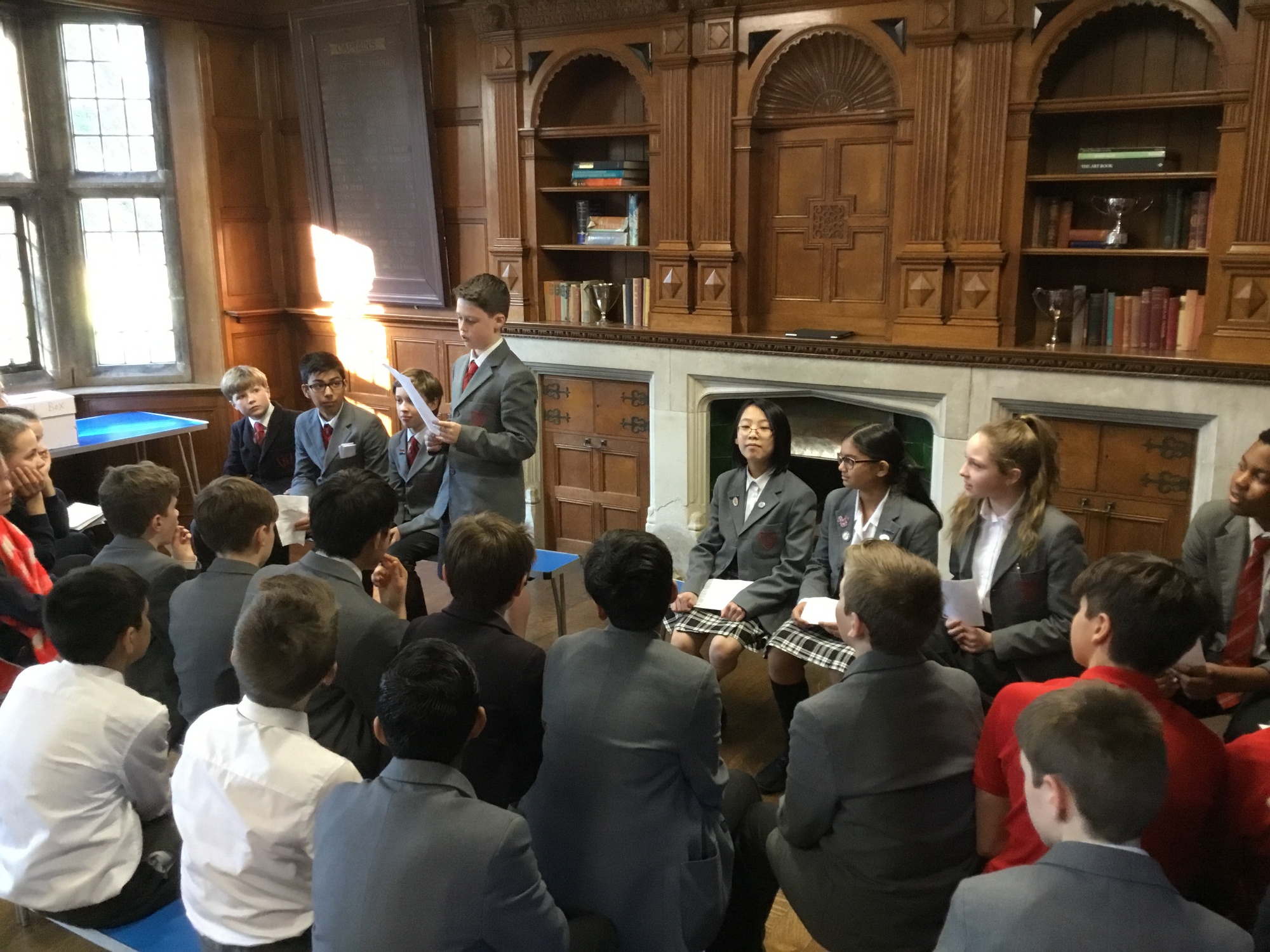 In the second debate 40% of the vote believed 'Social media does more harm than good', with 60% believing that 'Social media does more good than harm'.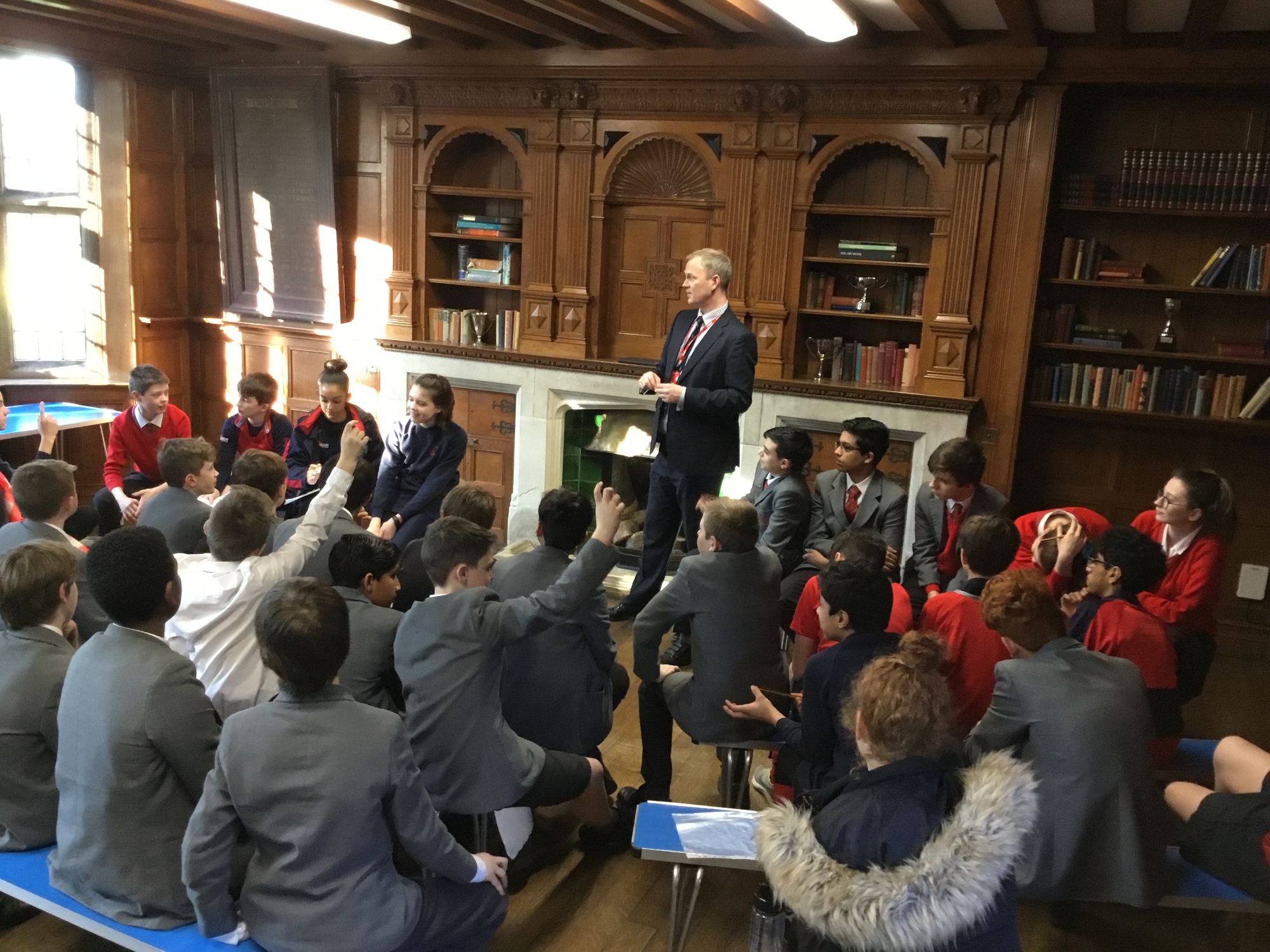 Stoneygate has been synonymous with sport for many years and it remains an important part of the curriculum. We value the role of both team sports and individual sports. This week alone we have had pupils competing in swimming galas, football, cross-country events, hockey and netball fixtures. This week I would like to highlight our swimming teams who competed in a tri-school event. Our Year 6 team came in first place with outstanding swimming from:
Jacob
Omar
Dhruv
Henry
Issy N
Tilly D
Isabelle J
Tilly G
Our Year 4 & 5 team came in second place, with notable performances from:
- Rosie A (Y4) won her individual front crawl
- Ben D (Y4) won his individual back stroke
- Tilly G (Y5) won her individual front crawl & butterfly & represented our yr6 team
- Sophia W (Y5) won her individual breast stroke
- Y5 girls won the mixed relay with Sophia, Tilly, Clemmy & Georgina
Congratulations to Krish in Y2 who won this medal for his outstanding effort and achievement in Tae Kwon Do this half term.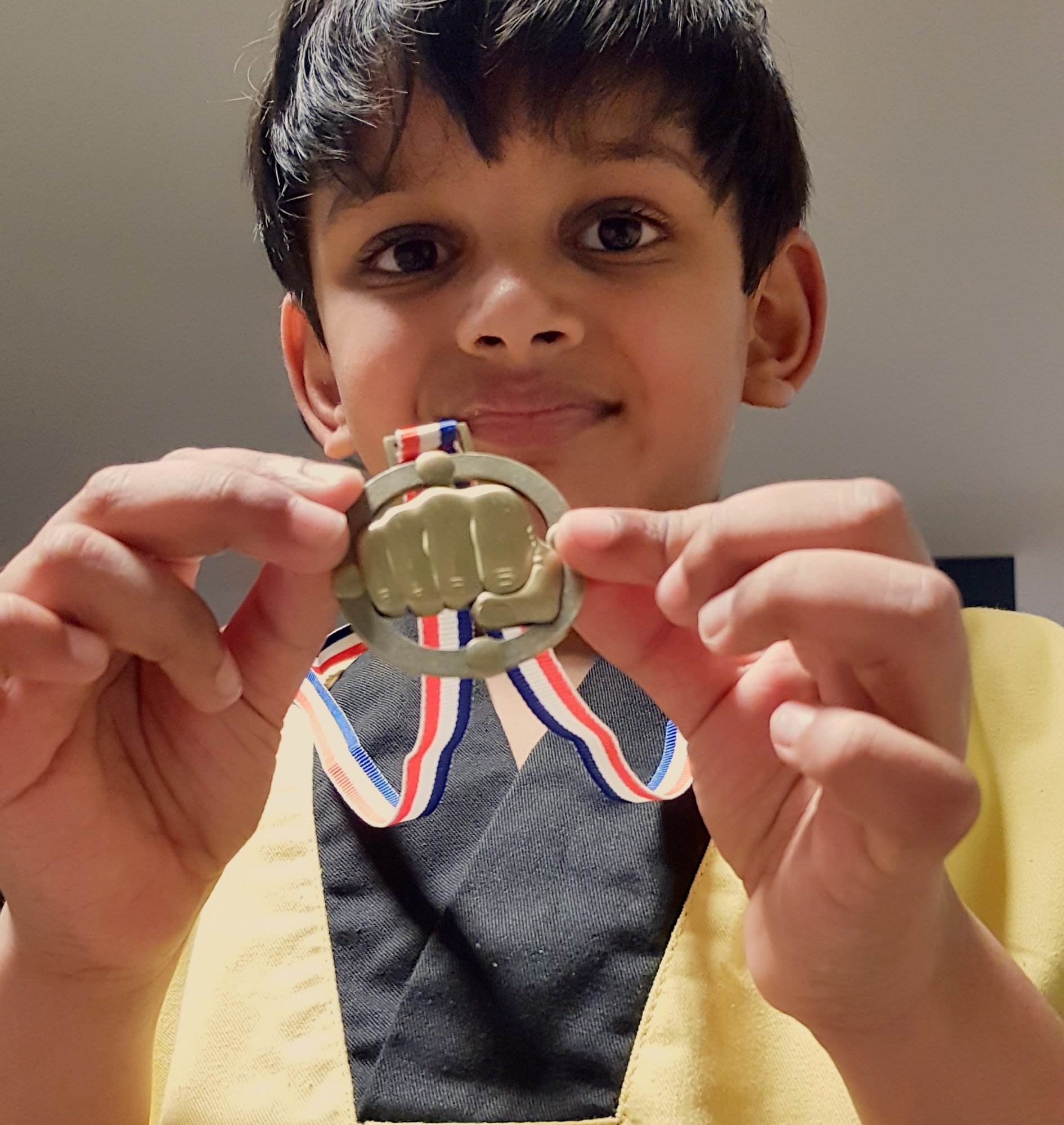 This half term we have welcomed Freya into the Art dept. Freya will be acting as our 'artist in residence'. I have been thrilled and amazed at some of our pupils' most recent work: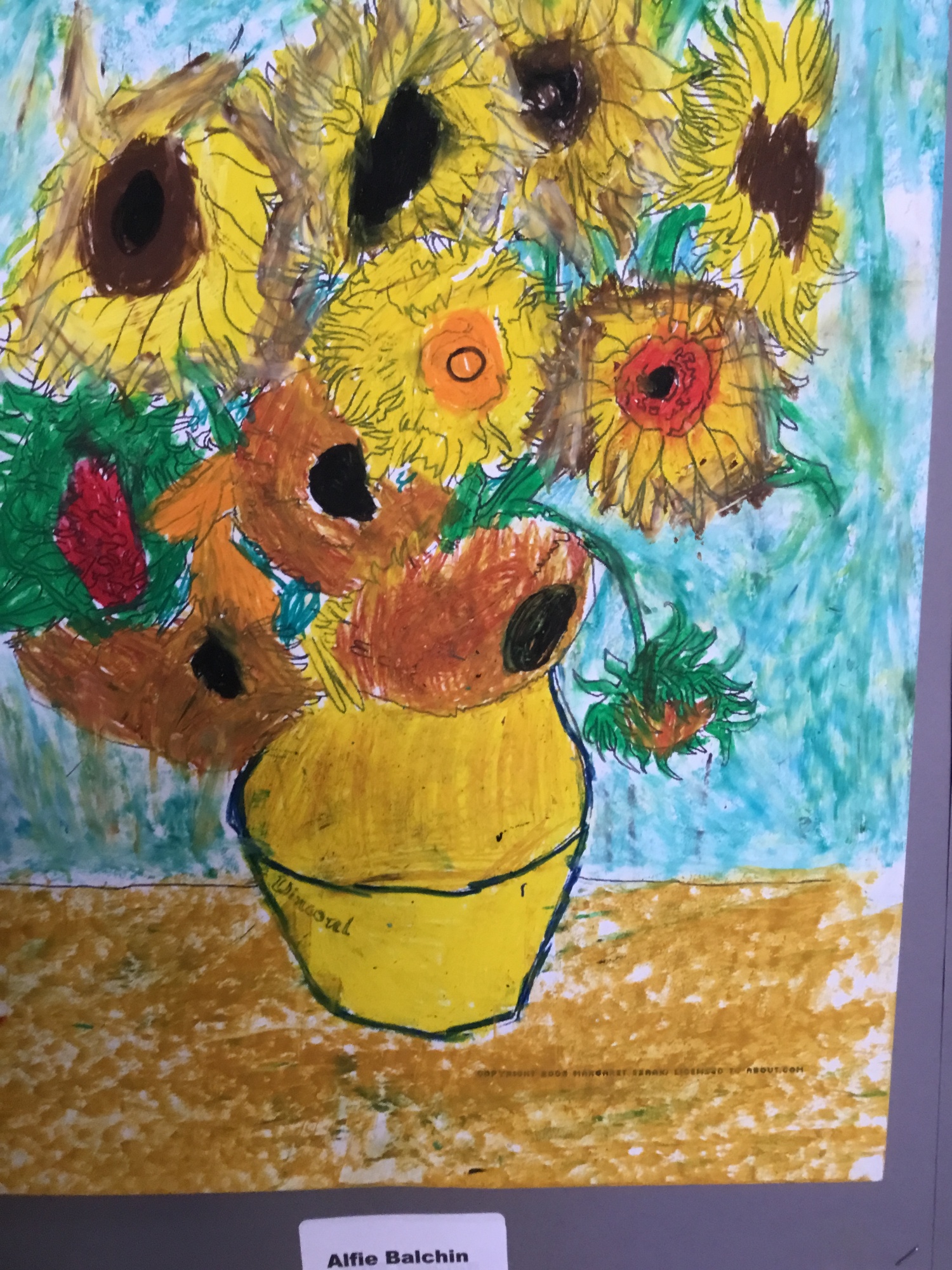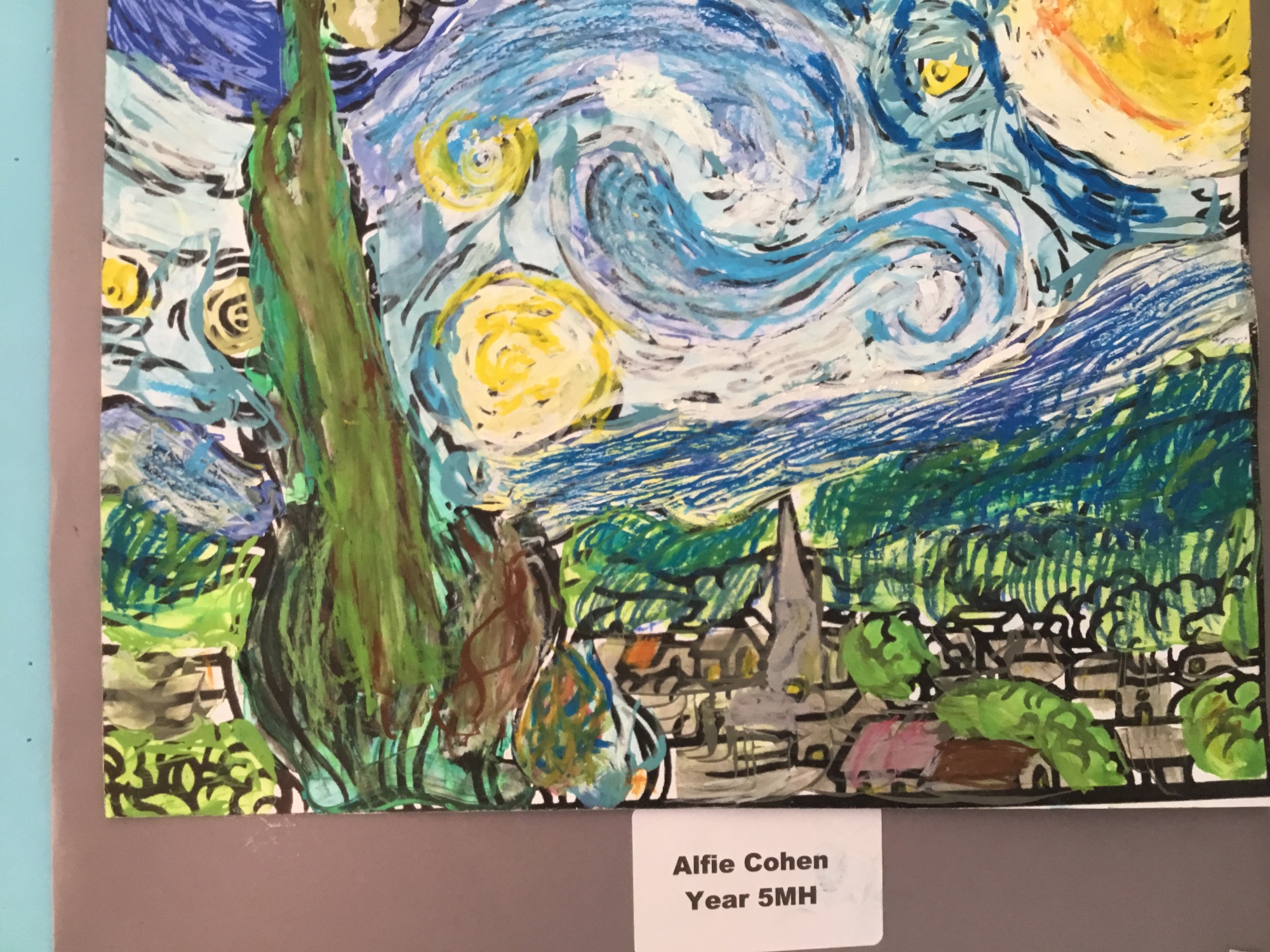 Year 5 inspired by their art teachers and Vincent Van Gogh….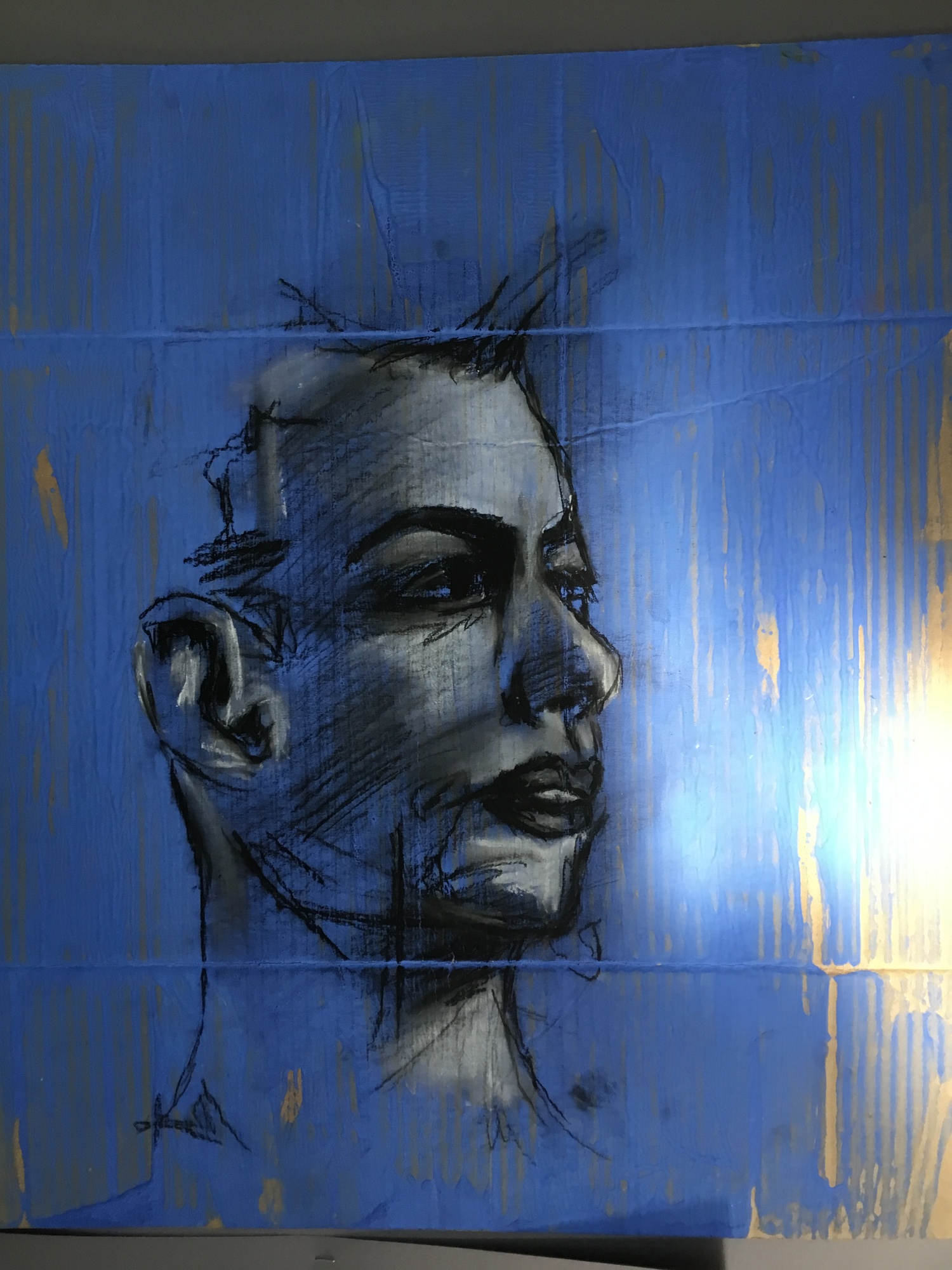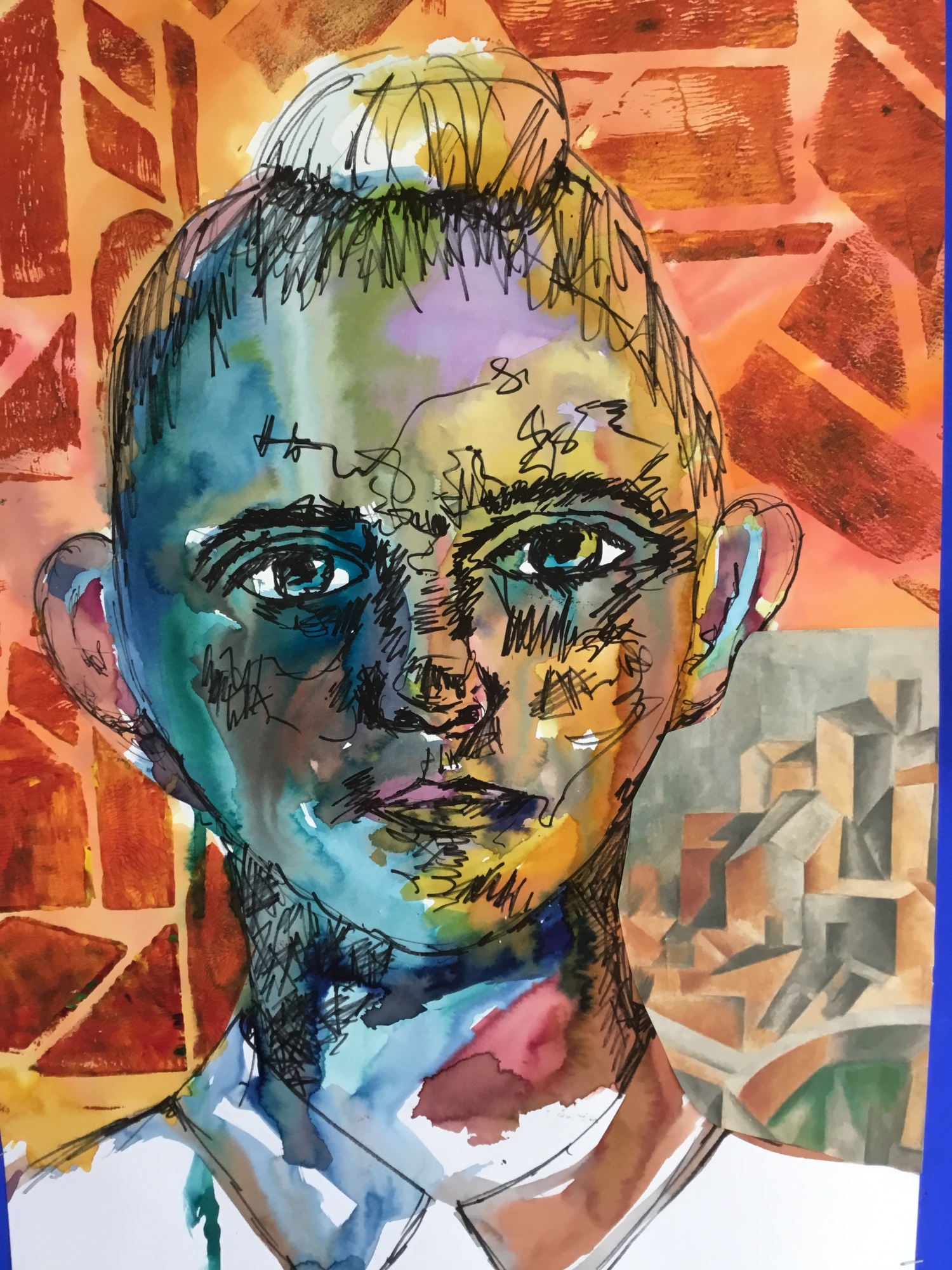 GCSE work…
At Stoneygate we are blessed with some outstanding music teachers and some hugely talented pupils. Congratulations to:
Karan - clarinet grade 2 merit
William - piano grade 3 distinction
Abigail - Music Theory grade 1 distinction
Darcey - Music Theory grade 1 pass
Rosie - Music Theory grade 2 merit
Karan - Music Theory grade 4 pass
Shonali - Music Theory grade 3 merit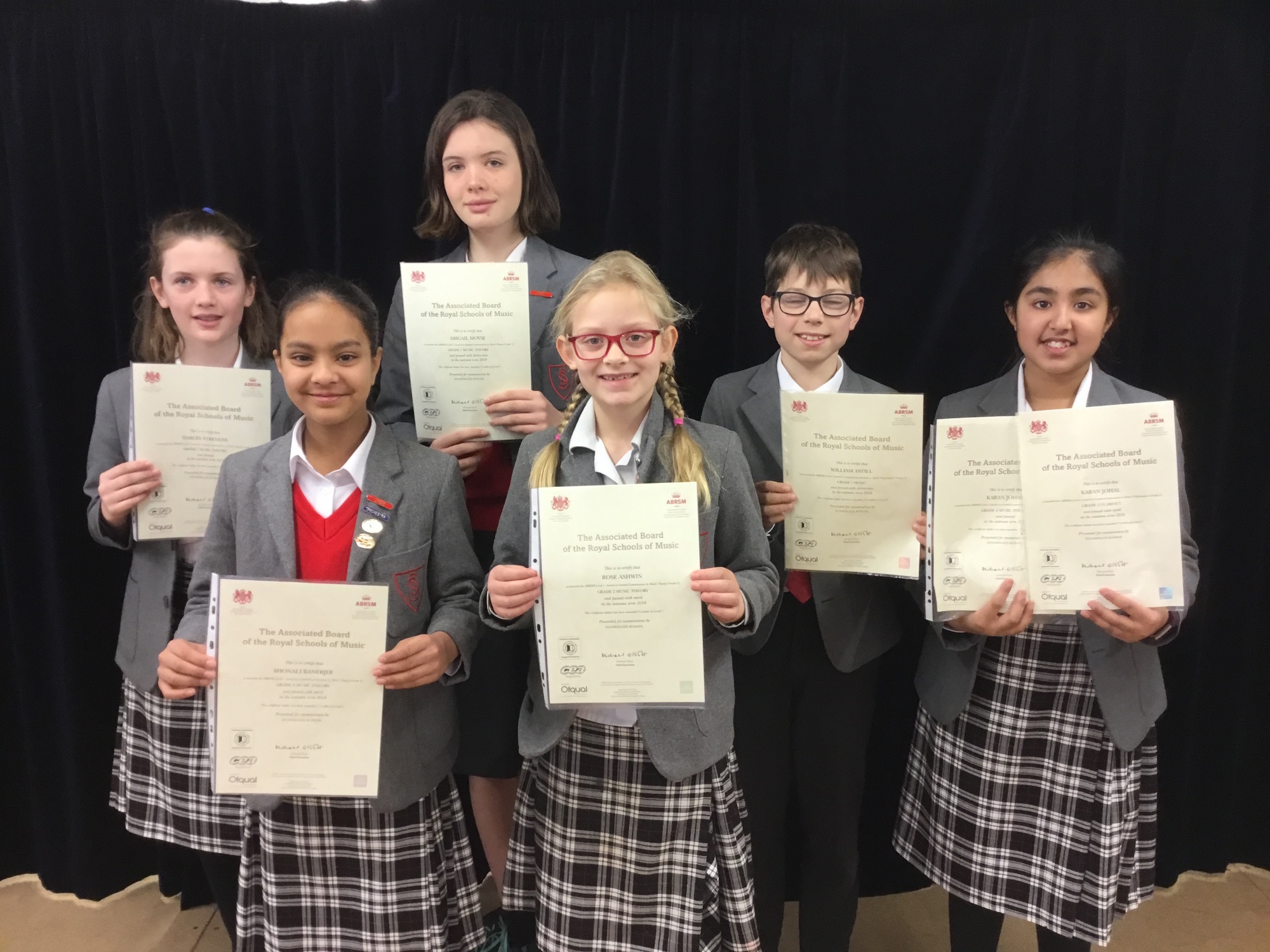 I was fortunate enough to watch some of our very fine musicians at Uppingham yesterday. They joined other Prep schools and performed some challenging pieces from 'The Greatest Showman' and then ended the concert playing an extract from Tchaikovsky's 1812 Overture. Please do watch the You Tube clip at the bottom of the page!
As a school, we have recently celebrated numerous pupils receiving awards across all fields. I would like to emphasise a child being nominated for any award deserves recognition and praise. Congratulations to the following:
Stoneygate School Scholarship Awards:
Academic: Freddie
Sport: Jacob
Art: Ezrah, Tahliya
Music: Shonali, Karan
All-Rounder: Tilly
Oakham School Scholarship Awards:
Academic & Sport: Joanna
Drama: Tasia
We have many talented pupils at Stoneygate; as a staff we will continue to help, support and motivate them in whatever ways we can. To this end we will be introducing a new 'Reward Card' to pupils in Years 5 and above. As a staff we want to encourage and reward effort and excellence.
Finally, thank you for your support at last Friday's 'Family Games & Curry Night'. It was marvellous to see a 'sold out' event at Stoneygate. We raised an incredible £1,088 for the Dev Naran Memorial Appeal. A special thanks to Mr Palmer for helping with the quiz and Kerry for the catering.
We end this half term on a bang!
https://www.youtube.com/watch?v=dqFvgQ8nSr0
Mr J F Dobson