GCSE Result success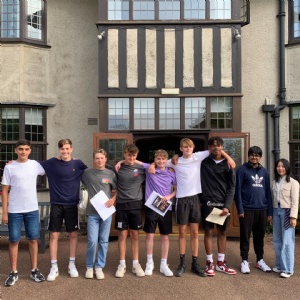 We have thoroughly enjoyed sharing this year with our GCSE pupils and their results are very pleasing. Many of our pupils have excelled and most importantly they all have reasons to be happy. Their time at school has not always been easy and has been much disrupted. The national picture has seen tougher grading, but everyone has learned a great deal and will leave us prepared for their future endeavours.
There were many excellent grades with one pupil achieving the highest grade [9] in all of their 9 GCSEs. They will join a strong cohort who will be progressing to Leicester Grammar School for their Sixth Form. Generally, it is good to see LGS Stoneygate pupils proceeding confidently onto the next stage of their chosen academic education.
In the vocational BTEC and VCert subjects, Animal Care and Food and Cookery, all of our pupils achieved Distinctions, with two pupils getting starred Distinctions, the very highest possible grade. Everyone did very well with their Art, with fifty per cent of pupils getting grade [9]s. All pupils also passed their Maths GCSE and there was a 94% pass rate in English Language and English Literature. In the Double Award Science GCSEs, three pupils achieved two top [9-9] grades and overall, there were grade [9]s achieved in the majority of subjects. There were 100% pass rates in Maths, History, Geography, RS, Music and Art.
Headmaster Mr Price said: "Some of our departing Year 11 pupils have been at LGS Stoneygate since Reception. Others have joined along the way and have added to the character of the group. They have been great role models, excellent leaders and Prefects. They have excelled at sports and grown into fine young people with many all-round talents. I have particularly enjoyed getting to know them and they have helped make our school a better place. Our dedicated staff, who have put so much into ensuring their success, have enjoyed teaching them. Well done to them all, they will be missed. We wish them well as they move onto the next exciting stage of their education, and their lives."