Music
Our aim is for every child to realise their musical potential and develop a life-long love of music.
Music is an integral part of life at Stoneygate School and we are very proud of the standards and opportunities that our pupils have.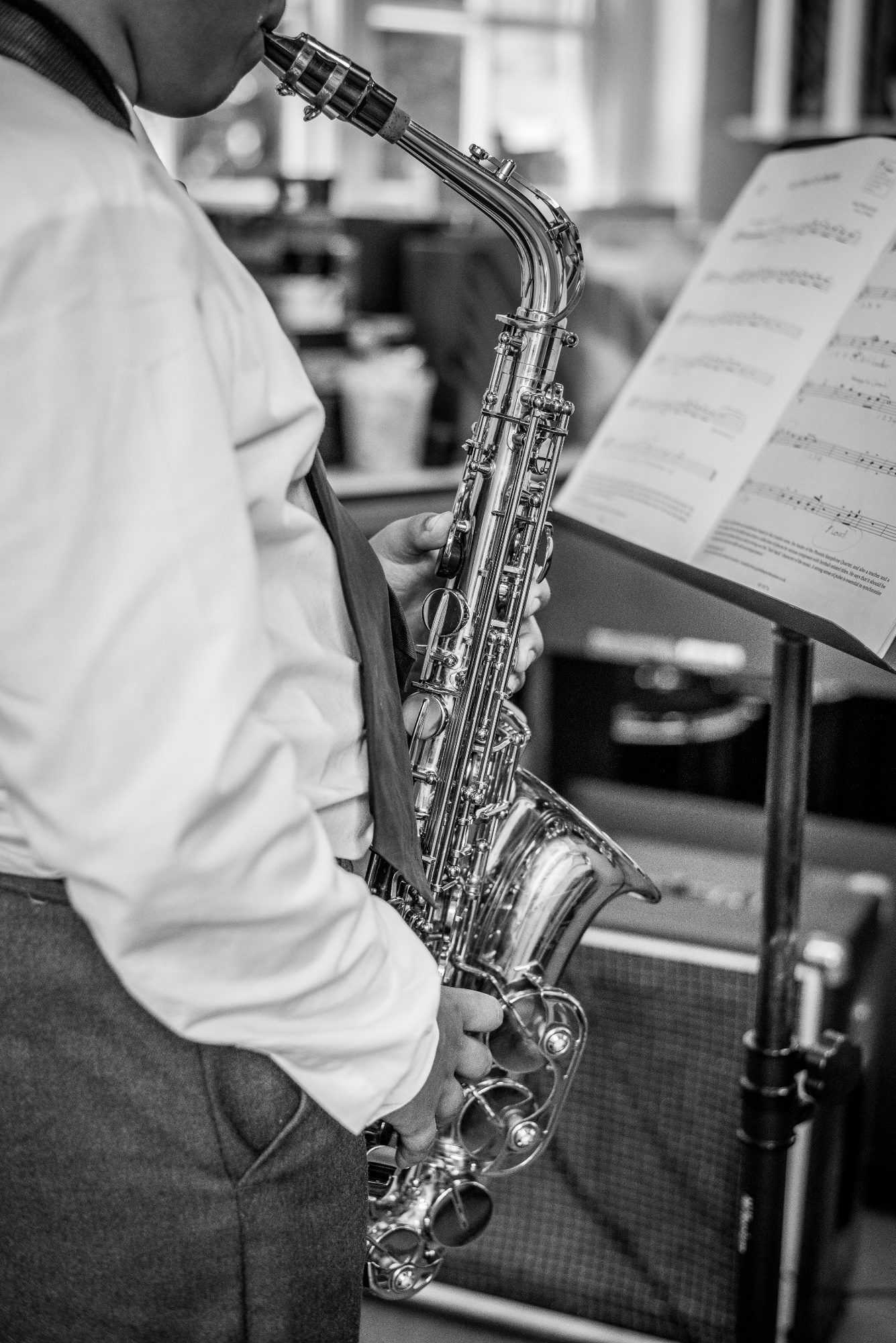 The Music Department is vibrant and long-established: we have a strong curriculum, enhanced by a super team of Visiting Music Teachers and frequent concerts, entries in festivals, workshops and Prep School Days at senior schools. There are well over 100 individual instrumental and vocal lessons taking place each week in school and pupils frequently go on to achieve music scholarships in their future schools. Individual instrumental and vocal lessons are available to all pupils from Year 3 and there are special arrangements for younger pupils with particular promise.
We have three choirs (Pre-Prep Choir, Junior Choir and Senior Choir) and the Senior Choir enjoy a three-night tour abroad biennially. Our Junior Orchestra ensures that our beginner instrumental pupils learn to play in an ensemble setting and they then progress to the prestigious Senior Orchestra. We have four concerts annually that celebrate the performances of all that have individual music lessons. There are two keyboard clubs and other ensembles spring up as required/desired for special performances, e.g. drum line, samba group, chamber choir, violin duets and barbershop and brass quartets.
The two musical highlights of the year are the Carol Service and the Summer Sequence Concert. The Carol Service is held in St James the Greater, Leicester and involves all pupils from Year 3 to Year 8. The massed choir of all pupils is extremely impressive and is an accurate representation of our belief in music for all. We also showcase our Junior Choir, Senior Choir and Orchestras in the Carol Service. The Summer Sequence is often quite an emotional affair as we say goodbye to our Year 8 pupils. This concert features an item just for the Year 8 singers and also Senior Choir, Orchestras and soloists.
We are very proud of the results from our ABRSM, Trinity and Rockschool exams and the candidates are well supported with weekly training sessions for aural tests. We also believe in the rigour of musical training and have three groups of pupils working towards ABRSM Music Theory exams.
Our annual Arts Festival includes instrumental and vocal performances from Year 3 – 8 and highlights the exceptional talent in the school. Our entries in the Royal Opera House Fanfare Competition have also been very successful in identifying composing talent and these pupils have been involved in composing and conducting musicians at the Royal Opera House.
Class music lessons start in Pre-School and continue through to Year 8. They are taught by music specialists and cover the skills and knowledge as specified in the National Curriculum for music. In Pre-Prep, pupils play ukuleles, recorders and sing. They develop skills of reading music and listening. In addition to their class lesson, they have twice weekly choir sessions run by our Singing Teacher and a weekly hymn practice.
In Year 3 and 4, there are two class music lessons, which focus more on composition/improvisation skills and keyboard technique. A special part of Year 3 music is the Taster Sessions, described below which often inspires pupils to start instrumental lessons. In Years 5 – 8, pupils have one or two class lessons per week and develop a huge range of skills. They are encouraged to listen critically, evaluate, perform, compose, improvise and learn to become independent musicians.
Our assemblies always start with hymn singing and we have a hymn practice twice a term. Assemblies often feature instrumental performances from pupils and are used to celebrate successes.
Pupils enjoy music at Stoneygate. They are motivated, energised and excited about opportunities. Developing young musicians is a privilege and one that all of us in the department delight in achieving.
Pre-Prep - Overview
The children benefit from both singing and use of instruments in their lessons, there are regular concerts including an annual Christmas concert involving singing, dance and acting, which gives all the children an opportunity to demonstrate their talents. Parents and friends are always welcome to the performances.
Reception to Year 2
In addition to their class teachers, the Reception, Yr 1 and 2 children are taught by a Music specialist. The children play a full part in the drama and music activities of the School. Parents are invited to attend a variety of performances during the year.
The children develop singing skills in both large and smaller groups. We build confidence with a variety of instruments including ukuleles/recorders/glockenspiels and a giant keyboard. Tempo, pitch, duration and dynamic awareness are all nurtured.
Prep School
Year 3
Musical activity continues into year 3, but in the more formal structure and timetable of the Prep School environment, with dedicated lessons and instrumental/vocal tuition playing an important part. All pupils have one lesson per week focussing on keyboard skills in the winter term, and on Music Technology skills in the summer term. In the spring term they take part in our Taster Sessions programme, which gives each child a set of taster instrumental lessons on four different instruments with four weeks on each instrument. Their other music lesson focuses on basic notation, composition and listening skills.
The school orchestra, keyboard club and theory group run as extra activities. The Junior Choir, with all pupils from Years 3 and 4, takes part in several concerts during the year, notably the annual Carol Service and Spring Concert.
Year 4
In Year 4, children further develop their singing skills with regular sessions, singing action songs, rounds and some more challenging songs in two parts. In class lessons they learn the basics of musical theory through learning to play the recorder, keyboard and percussion. Songs and tunes from many cultures and styles are used as a basis for performing, listening and simple composition work. Children are encouraged to perform in front of their class and to wider audiences, such as school assemblies where possible, and to use their instruments in lessons.
Year 5
In Year 5 pupils continue their enjoyment and understanding of music through performing, composing and listening. In class they are encouraged to perform, using voice, keyboard, recorders, percussion and any instruments they are learning. The stimulus for composing comes from a wide range of pieces from many cultures and styles. Where possible, classes prepare performances for wider audiences such as school assemblies and instrumental concerts.
Year 6
Class work is built around the three activities, Listening, Performing and Composing. Pupils use the voice, keyboards, tuned percussion, guitars and drums as well as music technology to create performances and compositions. They study music from many eras and countries and continue to develop their knowledge and understanding of music in an enjoyable and stimulating way.
Year 7
The foundation of the Year 7 course consists of Listening, Performing and Composing. Pupils listen to music from a wide range of styles and historical periods, learning about the instruments, structures and traditions. Composing projects include writing an Autumn song and minimalist pieces. Performance projects include a class pop song arrangement.
Year 8
Students use keyboards, voices, classroom instruments and their own instruments to create performances and compositions. Topics include The Canon of Music, 12 Bar Blues. Students also compose a fanfare which is entered into the Royal Opera House's fanfare competition. They also choose a pop song to arrange and perform as a class.