Multi Purpose Hall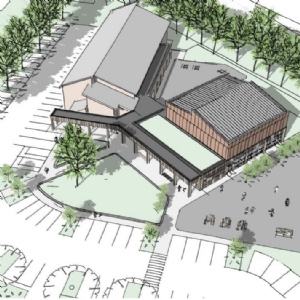 The first phases of construction of a new multi-purpose hall, overseen by new permanent Headmistress, Mrs Christina McCullough, are due to begin in October half term.
Built to provide flexible accommodation to meet the needs of the school curriculum and extensive co-curricular activities, the hall will create a new contemporary campus hub for the whole LGS Stoneygate community as it continues to expand. The venue will allow for school performances with stage space and seating for approximately 200 people. It has been sustainably designed to comprise natural ventilation and low energy lighting and will have a lower operational energy output due to the use of structural insulated panels (SIPS). The facing brickwork will be locally sourced.
This investment in LGS Stoneygate is the latest work to be undertaken from the ambitious development plan, Project 21. In 2021, a Food Technology room was added to the Courtyard area of the school along with an extension of the Art room creating a research area and a redesign of existing buildings was undertaken to allow more space for pupils to develop their skills and take their knowledge to a greater depth. The lawn tennis courts were also opened in the summer of 2021. Further investment in the school grounds began in 2022. The rugby and football pitches were extended to allow more fixtures to take place simultaneously, cricket nets and a dedicated practise area were opened and the netball courts and Astro turf areas were improved. This summer a new grass athletics track opened along with a new rounders pitches.
Improvements to the existing senior school building include alterations to the changing rooms and a new shared entrance.