Year 4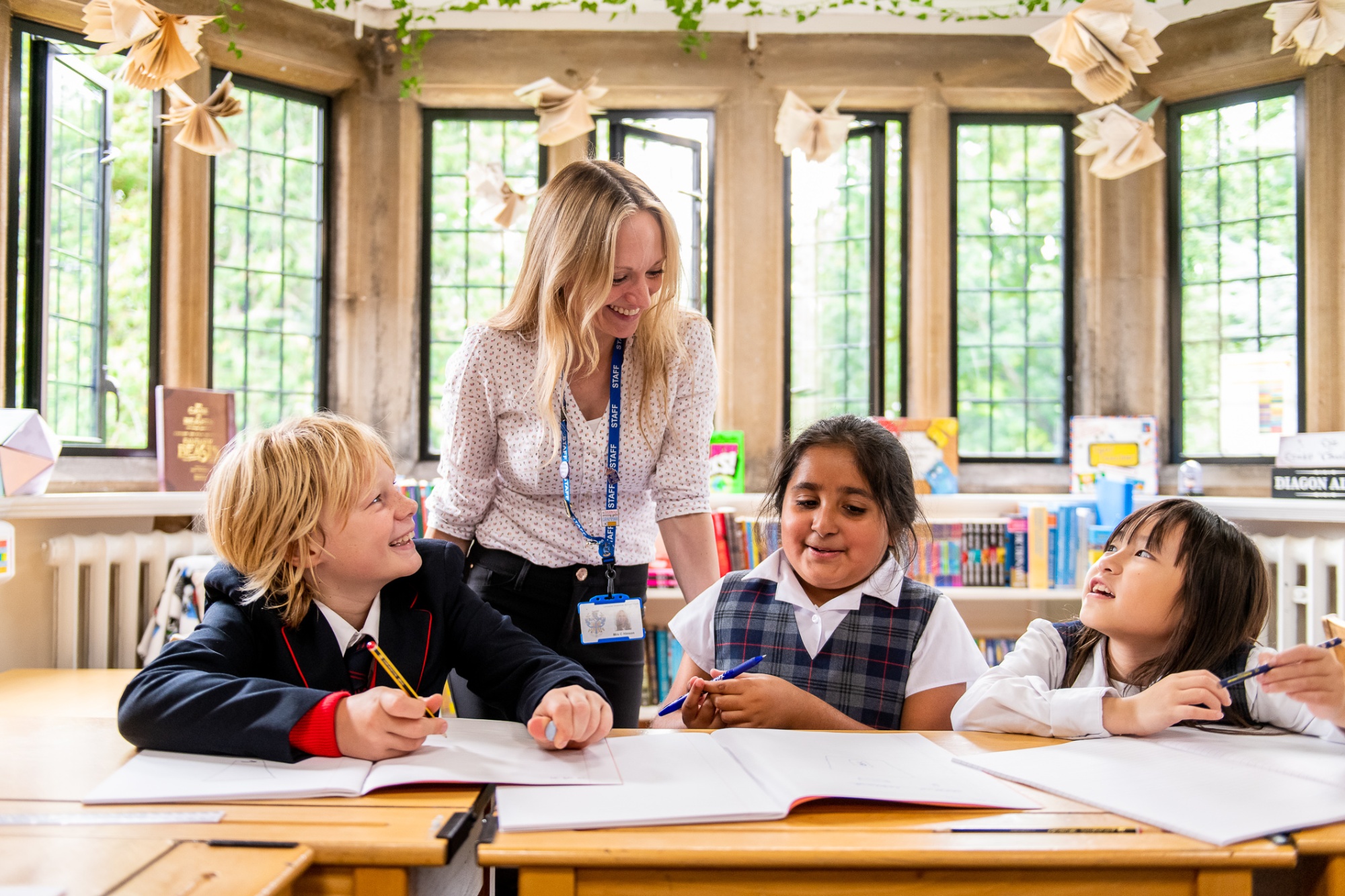 Your child will continue to be taught by their form tutor most often but, in addition, a variety of other teachers will teach their specialist subjects. A class timetable will be given to each child at the beginning of term.
In addition to academic subjects, the children will take part in a range of sporting activities. In general, for boys, emphasis is placed on rugby, football, cricket, athletics, cross-country and swimming and, for girls, on netball, hockey, rounders, dance, cross-country and swimming. There is also a wide range of clubs available for children to take part in. You will be informed by letter of the clubs available and how to register to participate.
Music and Drama, too, hold an important place in the School and opportunities to participate are available through class lessons, individual lessons, orchestra, choir, hymn practice, concerts and clubs.
English
We concentrate on the basics in reading, writing, spelling and grammar. Children read to their form tutor on a regular basis and are encouraged to read independently. In writing, the children are taught a variety of genres, which is often linked to our topic learning. There are formal grammar lessons, and spelling and general development are carefully assessed.
Comprehension is a regular exercise with more emphasis being placed on inference reading. The children take part in dramatic and oral work, including presenting, poetry recitation, talks and organised discussions. The requirements of the National Curriculum are closely monitored and incorporated into the general teaching strategy.
Maths
Using the White Rose Maths scheme, we follow a mastery approach where pupils acquire a deep, long-term, secure and adaptable understanding of the subject. The children build on their basic mathematical skills, working extensively in the four operations and continuing to revise and extend tables knowledge. Most will be working towards having learnt up to 12 x 12 by the year's end. They further their knowledge of place value, time, money, shape and fractions. They are introduced to decimals and will begin to learn how to measure angles, construct triangles and recognise other two dimensional and three dimensional shapes. Other specific areas covered are interpreting and displaying information, measurement, area and perimeter.
French
Year 4 continue with La Jolie Ronde and Salut schemes of work. Pupils further develop skills in listening, speaking, reading and writing. They also extend their vocabulary, sentence construction and grammar knowledge such as the formation of verbs. Stories, rhymes, poetry and songs continue to be used as a useful vehicle for using languages for a purpose and to develop language for communication. Topics include: numbers, clothes, parts of the body and food. The aim of this year is to build knowledge of both spoken and written French, applying skills learnt in the previous year so that French can be used for communication and purpose.
Geography
Throughout the year, we study a range of geographical skills, such as locating and naming the world's continents and oceans, the Equator, the tropics and hemispheres using an atlas. We investigate the layers of the ocean and the effects of plastic pollution on marine life and the wider world.
During our Extreme Earth topic, we investigate the layers of the earth and learn how volcanoes are formed. We also learn about tectonic plates and why earthquakes and tsunamis occur.
History
The History curriculum in Year 4 covers a wide chronological spectrum. We look at an ancient civilisation examining the early Egyptians. We also study early events in this country, when we look at the Anglo-Saxons. To aid their understanding of life during this era, we hold a live historical workshop within the school grounds. Another topic looks in depth at World War II. This is backed up by a visit to Beaumanor Hall, where children experience life as an evacuee. We finish the year with our topic, Riotous Royals, where we look at significant monarchs throughout Britain's history starting with William the Conqueror right through to the modern royal family.
The children are encouraged to develop their skills as young historians, and we always try to foster a long-term interest in the subject.
Religious Studies
In Year 4, we encourage an understanding and tolerance of other belief systems.
Our year begins with a study of Buddhism where we learn about the Buddha's teachings, including the Four Noble Truths and the Eightfold Path.
Our other topics include People of Faith, where we look at the lives of significant figures who follow different religions, Food and Fasting, where we look at the significance of food in various religions, and Pilgrimages, where we look at how different people celebrate their faith.
To end the year, we focus on Christianity and the stories from the Old and New Testaments in the Bible. Vikings. We finish the year with a modern unit, starting with the 1930's, looking in depth at the war years, and working up to the present day. The latter topic is backed up by a visit to Beaumanor Hall, where children experience life as an evacuee. A recent development in the Year 4 curriculum is an understanding of methods of evidence gathering and types of evidence, chronology and a look at some key events in British History.
Science
Topics covered this year include the Skeleton, Vertebrates and Invertebrates, Magnetism and Electricity, and the Senses. As much use is made of practical lessons as possible, with children building upon their knowledge of fair tests to conduct various experiments.